Compact cars take on a new meaning when they can literally fold themselves.
Spain will begin producing an electric car next year that's about the same size as a Smart, but can collapse itself into an even smaller footprint when parked. The Hiriko, which means "urban car" in Basque, is the brainchild of researchers at the MIT Media Lab, and is designed to meet the needs of increasingly congested and parking challenged urban centers.
Seven Basque design firms worked with MIT to bring the prototype to production and turn it into a 100-inch EV that seats two. The Hikiro saves space by integrating its electric motors, steering, and brakes in the wheels. Its systems are all digitally managed with a drive-by-wire system.
Lithium-ion batteries are housed in the vehicle's floor and provide a driving range of approximately 75 miles. Its top speed is limited to city speed, according to an article in the Associated Foreign Press, possibly making it more of a compact neighborhood electric vehicle than a highway-safe car.
When folded, its length is reduced to 60 inches and is comparable to the width of a typical car, which means you'll be able to fit three Hirikos in a parking space meant for a single car. Getting out of a tight space shouldn't be an issue because you exit through a retractable windshield that lifts like a garage door. Its diminutive size also has advantages on tight city streets–you can turn the car completely around in its own diameter.
(Credit: MIT)
The folding vehicle was unveiled yesterday to the European Commission during the launch of the Hiriko Driving Mobility project. Spain plans to produce the vehicles and lease them to city residents, much like ZipCar or other city car shares. They'll also sell the vehicle for approximately $16,350, reports the AFP.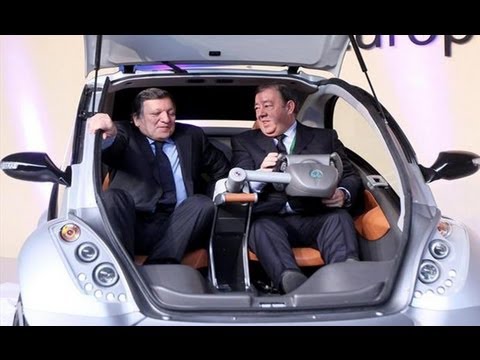 (Source)
Related Posts:
Comments
Comments